A double din car stereo is a type of in-dash head unit for vehicles that has two slots of equal size, each measuring 180 by 100 mm. It can be used to replace the factory stereo and upgrade it with features such as larger LCD touchscreens, DVD players, Bluetooth connectivity, satellite radio, GPS navigation systems, USB ports and more. Double din stereos are designed to fit into most standard aftermarket dash kits or installation hardware without any modifications.

Double din head units offer a much bigger display than traditional single DIN models and give users access to many more features.
A double din car stereo is the perfect way to upgrade your vehicle's audio system. Not only does it provide superior sound quality, but its larger size allows for more features and customization. Whether you're looking for a state-of-the-art touchscreen display, built-in navigation or the ability to connect with your smartphone, there's a double din car stereo that can meet your needs and enhance your driving experience.
What Does Double Din Mean on a Car Stereo?
A double DIN car stereo refers to the size of a car stereo unit. A single DIN, or standard-size radio is about 2 inches tall by 7 inches wide. Double DIN units are twice as big and measure 4" x 7" in most cases.

The "DIN" stands for Deutsches Institut für Normung (German Institute for Standardization). This larger size allows manufacturers to offer more features such as DVD/CD playback, satellite radio, Bluetooth connectivity, and even touchscreen displays on certain models. With all these added features you can have a much more immersive audio experience while driving your vehicle than with just a regular single DIN headunit alone!
What is Car Double Din Vs Single Din?
Car audio systems come in two forms: single DIN and double DIN. Single DIN refers to a standard size of car stereo head units, which measure 2 inches in height by 7 inches in width. Double DIN is the same width but twice as tall, at 4″ x 7″.

This extra space allows for more features and functions than are offered with single din units. For example, double-DIN radios often feature touchscreens that can be used to control music playback or access other features such as GPS navigation or hands-free phone calling via Bluetooth technology. Additionally, these larger stereos usually offer enhanced sound quality and support for additional audio formats beyond basic AM/FM radio stations or CDs.

While some cars may have specific mounting slots designed specifically for either type of unit, many modern vehicles accept both types so it's simply a matter of personal preference when deciding between single vs double din options.
Does a Double Din Need a Dash Kit?
A double DIN, or two single in-dash units side by side, is a popular option for many car audio enthusiasts. But before going ahead and installing one of these systems into your vehicle, it's important to know that you may need something extra: a dash kit. Dash kits are necessary when installing aftermarket stereos because they provide the custom mounting brackets and other hardware needed to fit the stereo securely into the space left behind from an existing factory radio.

A universal double DIN install kit can be used with any compatible model but if you're looking for a more exact fit, then getting one specifically designed for your vehicle make and model will ensure optimum performance. In addition to providing stability so there's no rattling around when driving over bumps or potholes, some kits even have additional features such as trim pieces that perfectly match up with other interior components like air vents or climate controls; this creates a seamless look between all parts of the dashboard. Whether you're upgrading from an older system or just want to add some modern tech into your ride, making sure you have everything necessary for installation is key – including a dash kit!
What'S a Good Double Din Stereo?
A good double DIN stereo should provide plenty of features and sound quality. The Pioneer AVH-3300NEX is a great example of a high-end double DIN car audio system that offers all the bells and whistles you would expect from an expensive unit. This model comes with Apple CarPlay, Android Auto, Bluetooth connectivity and SiriusXM satellite radio compatibility along with other advanced features such as multi-zone audio, HD Radio tuning and more.

Additionally, this stereo has an impressive 13-band graphic equalizer to give you complete control over your music's tone. It also includes two sets of 4V preamp outputs for adding external amplifiers if desired. The 6.2 inch touchscreen display is clear and easy to use which makes it perfect for those who want something straightforward but still have access to some of the latest features available in car stereos today.

If you're looking for a top notch double DIN headunit then the Pioneer AVH-3300NEX is definitely worth considering!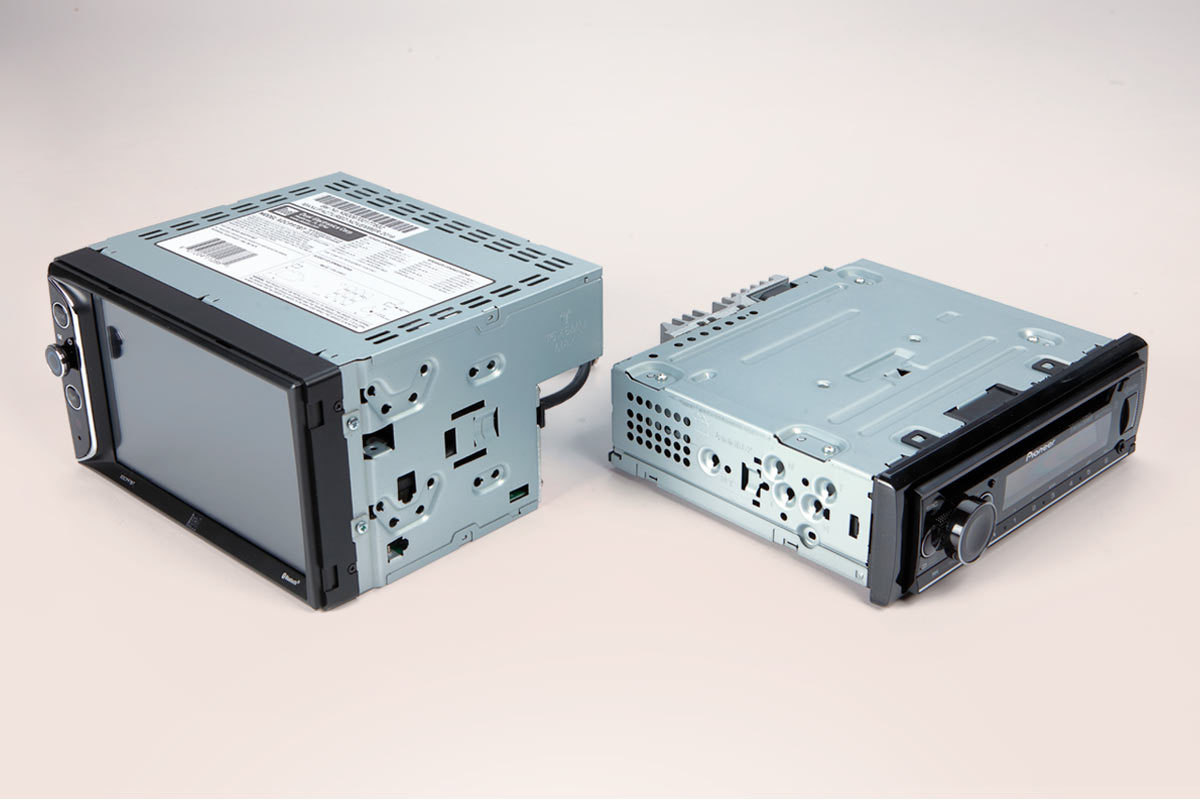 Credit: www.crutchfield.com
Double Din Car Stereo With Navigation And Bluetooth
The double din car stereo with navigation and Bluetooth is a great way to upgrade your vehicle's sound system. Not only will you get amazing audio quality from the stereo, but it also includes a built-in GPS navigation system so you always know where you're going. Additionally, this double din stereo has advanced Bluetooth connectivity that allows for hands-free calling and music streaming.

With its combination of features and convenience, the double din car stereo with navigation and Bluetooth is an ideal choice for any driver looking to take their driving experience to the next level!
Single Din Radio
Single din radios are one of the most popular types of aftermarket audio systems available today. They provide a sleek, modern look to any vehicle and offer features like Bluetooth connectivity, USB ports for charging devices, and powerful sound quality with AM/FM radio reception. Single din radios are a great way to upgrade your car's audio system without breaking the bank or taking up too much space in your dashboard.
Conclusion
In conclusion, double din car stereos offer users an upgraded experience when listening to music and other audio in their vehicles. Not only does the double din size provide more space for larger and higher quality screens, but it also allows for a wider range of features like Bluetooth connectivity, GPS navigation systems, media playback capabilities, and touch screen controls. With all these benefits in mind, upgrading to a double din car stereo is definitely worth considering if you want to upgrade your vehicle's audio system.